Oxford Wasp Nest Removal & Wasp Control Oxfordshire, Banbury, Buckinghamshire (Bucks)
Do you have excessive wasps around your premises with no obvious indication as to the source? Do you need a wasps nest removing or simply some advice on the best course of action to take... whatever your problem with wasps, we can help...
We provide professional wasp control throughout Oxfordshire that guarantees wasps are eradicated.
Wasps can often become problematic throughout the summer months in both business and domestic environments. A pest controller who is professionally trained in the removal of wasps is able to carry out a treatment that will get rid of the wasps and ensure the nest can be safely removed and destroyed.

With bases in both Oxfordshire and Buckinghamshire our team are conveniently located to provide pest control for wasps and bee removal & relocation services to all areas of Oxfordshire, Buckinghamshire & the Thames Valley, including but not limited to; Oxford, Summertown, Kidlington, Botley, Cumnor, Farmoor, Yarnton, Wolvercote, Cowley, Kennington, Blackbird Leys, Headington, Wheatley, Horspath, Banbury, Abingdon, Didcot, Woodstock, Witney, Wallingford, Chipping Norton, Thame, Bicester, Brackley, Marlow, Henley and High Wycombe.
Wasp Control - how to locate a wasps nest for removal
By careful observation of their flight path it can be relatively easy to locate the nest, especially on a bright, warm day when the wasps are out in force - although it's essential to be aware that wasps can become somewhat aggressive in their attempt to defend their territory, and if threatened or disturbed, as we all know, can become quite ferocious. For this reason it makes sense to leave wasp nest removal to a professionally trained pest controller.
Our wasp removal expert always wear protective clothing and uses advanced insecticides available only to industry professionals, and you'll be pleased to know, once removed, it's very rare for wasps to attempt to nest in the same location again.
Everyone wants to know how to get rid of wasps, but are they always such a problematic insect..?
There are around 8 known species in the UK, with the two most frequently found in urban areas being the German wasp and common wasp. Many farmers and gardeners are fully aware that having them around is not all bad news, they can actually be a very useful insect as they feed on other pests and grubs that could otherwise cause far worse damage to plants and crops. However, that's obviously little consolation when swarms are nesting in your loft and flying through the kitchen window to sting your children!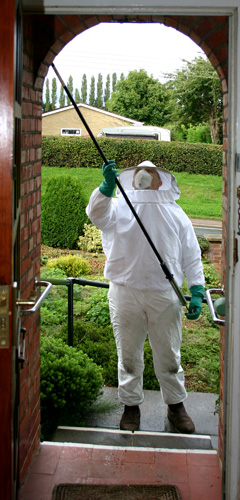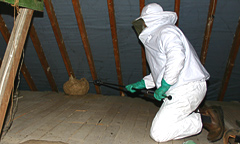 Wasp Nest Removal Oxfordshire "I contacted Matthew with a rat problem in my house. He called almost immediately and put down traps. Nothing was too much trouble and I would certainly use the service again. I would have no hesitation in recommending The Hawthorn Pest Control Company." - Paul Rat Control, Oxford "Thank you for such a prompt appearance Matthew, so glad the wasps have gone at last. A tricky job, very well done. I'll be sure to recommend your wasp removal service to friends if ever they need it." - Derek Wasp Nest Removal, Oxford "Matt has controlled pests for us since day one of our commercial grain store. He is qualified, thorough, knowledgeable, courteous and friendly. He offers good value for money and provides a fantastic service." - Derek P, Oakley, Oxfordshire Matthew, our friendly wasp and bee removal expert is availiable 24/7 Monday to Sunday throughout Oxfordshire, Bucks and the Thames Valley. The areas we cover for bee removal and wasp control include: Botley, Cumnor, Farmoor, Yarnton, Wolvercote, Wytham, Cowley, Kennington, Blackbird Leys, Headington, Rose Hill, Littlemore, High Wycombe, Marlow, Horspath, Garsington, Henley, Wheatley, Appleton, Oxford, Summertown, North Oxford, Kidlington, Horspath, Banbury, Abingdon, Didcot, Benson, Woodstock, Witney, Wallingford, Brackley, Faringdon, Deddington, Charlbury, Islip, Chipping Norton, Thame, Brackley, Princes Risborough, Bicester, Banbury Sandford, Wood Farm, Brill, Watlington, Yarnton, Chalgrove, Great Milton, Little Milton, Berinsfield, Dorchester on Thames, Wootton and all surrounding areas..


wasp nest removal oxford
Banbury, Bicester, Bucks
Summertown Oxfordshire